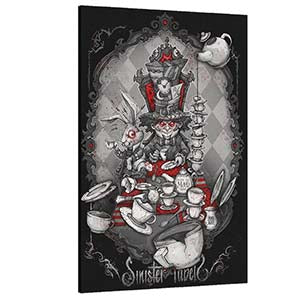 Big Chris Release Sisnister Fables Collection
Dark Pop Artist, Big Chris, released a new collection of Art called Sinister Fables. Sinister Fables, is art from classic fairy tales reinterpreted with a dark twist. 
Get Down art is proud to be feature Sinister Fables collection on T-Shirts and Canvas Wall Art.
Big Chris, chooses to use a minimal color pallet of black, white, and red. Red is used cleverly as an accent color guiding your eye through a story told in the art. The color minimalism also makes it a good choice for Wall Art decoration in a variety of spaces. The colors are easy to mach with a variety of home decor.



The Sinister Fable Graphic Tees play off the color pallet with a unique garment dye of red accent on a black shirt. The sharp Sinister Fables imagery is well represented on the shirt with this combination. See for yourself.